Oktoberfest: 10 Things to Know About Germany's Largest Festival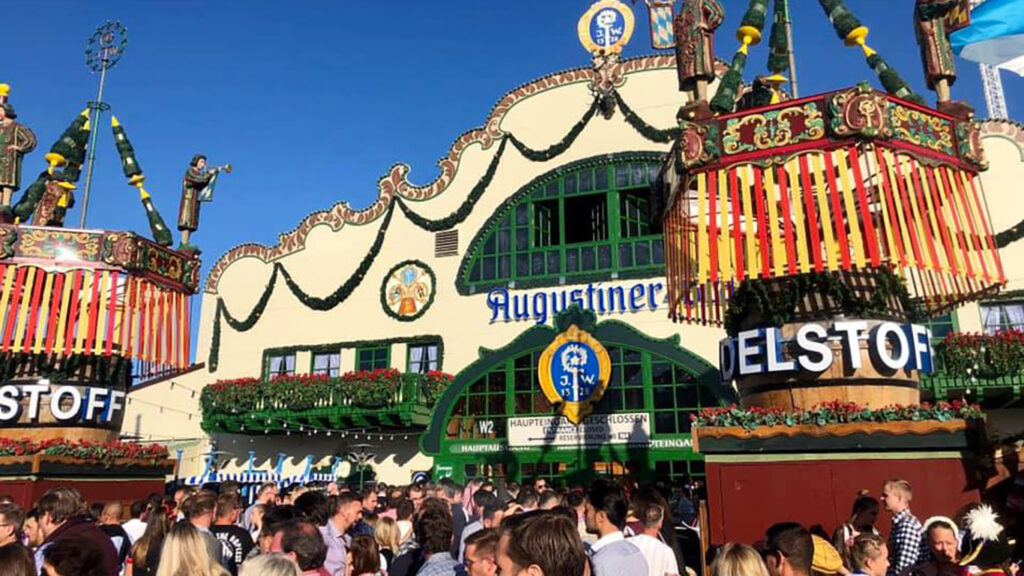 A Newbie's Guide to Visiting Germany's Oktoberfest
So it is finally happening. You will be packing your bag to head to Bavaria for Germany's world-famous, Oktoberfest, or as Germans call it, The Wiesn. You aren't sure what to expect and you want to make the most out of the experience. Here are 10 things you need to know as you prepare for your journey to Munich. Sit back and relax. You will be drinking a liter of beer and soaking in the German culture in no time.
1. What to Wear at Oktoberfest
The best way to join in the fun and to acknowledge Bavarian culture is to arrive in traditional attire. The ladies can be found wearing dirndls, which are dresses with wide skirts and close-fitting bodices. While the guys wear lederhosen or shorts with suspenders. You can purchase these outfits online prior to your trip or if you get in a pinch, the main train station in Munich has a nice little shop where you can purchase them on your way to the festival.
You will notice the vast majority of visitors will be wearing these outfits, particularly in the tents. Don't be shy, get yourself ready to make some memories, Bavarian-style.
2. Oktoberfest has Free Admission
Upon my first visit to Germany's Oktoberfest, I was surprised that the event's admission was free. The only line we waited in to enter was to go through security. Yes, it may not be cheap to enjoy the food, drinks, and entertainment, but if you are on a budget and want to check Oktoberfest off of your bucket list, no entrance fees are a major plus.
3. Stroller Policy at Oktoberfest
Strollers are not permitted on Saturdays or on German Unity Day. These days, a carrier would be more ideal for your little ones.
You are in luck if you plan to attend Oktoberfest on a weekday or a Sunday. It turns out, you may bring a stroller into the festival, but only before 6:00 pm. Oktoberfest does have a stroller check available for a small fee at the entrance. All of this is important to note to ensure an enjoyable family-friendly visit.
4. Pack Light for Oktoberfest
Security measures have increased in recent years and the rules have changed a bit. Large bags and backpacks are not permitted at the festival. Bags must not exceed the volume of 3 liters or approximately 8 in x 6 in x 4 in.
Luckily, the festival offers storage near the entrance for a small fee if you need to check large bags. Regardless, the fewer belongings to keep track of, the better. Be sure to pack light.
5. Cash is King in Germany
Most places will only accept euros so do not count on using your cards at Oktoberfest. Some of the bigger tents are more credit card friendly, but it would be easiest to anticipate using cash during your time at The Wiesn.
ATM's will be on-site, but you will not want to stand in line, pay extra fees or waste time looking for an ATM.
Make sure to bring some coins, as you will need them for tips and for the restrooms. Go prepared with plenty of euro so your focus can be on having fun.
6. Rides and Attractions
Embarrassingly, I had no idea that there were rides at Oktoberfest until I walked up to the event and saw the huge Ferris wheel. This classic ride holds up to 400 people at once and takes you 50 meters into the air for a beautiful view of the venue.
Adrenaline junkies will be appeased with the Skyfall, which is the tallest mobile drop tower in the world. There are plenty of rides to choose from for all ages and for all levels of thrill-seeking.
If games are more your style, there are plenty of games to play to win prizes. There is something for everyone here.
7. Popular Oktoberfest Food
I bet you are wondering what kind of cuisine to expect at Oktoberfest. Well, you will be happy to know that fresh, soft pretzels are on the menu, also known as brezn. Some of the most popular treats are candied nuts, cotton candy and the adorable gingerbread hearts with their sweetheart slogans like ich liebe dich (I love you). You will see a large number of attendees wearing these hearts as a fun souvenir.
Other traditional dishes you may want to try are käsespätzle (cheese noodles), bratwursts, currywurst (sliced sausage served with ketchup and curry powder), fish, roasted ox, rotisserie chicken, sauerkraut, fried potato cakes, and the list goes on. So many delicious choices.
And some of you will be glad to hear that there are vegan and vegetarian options available throughout the festival. Something for everyone. Guten Appetit!
8. Tents and Table Sharing at Oktoberfest
Germany's Oktoberfest hosts 17 large tents and 21 small tents. These tents are owned by different breweries, restaurants, and other establishments. Each atmosphere and menu in the tents vary. Throughout the day, bands play traditional Bavarian music, in the evening hours, you will hear a wide array from modern to pop to rock and even dance music.
A portion of the tables is kept for those without reservations. Bear in mind, that it can be difficult to get a table or even get into a tent due to overcrowding. Heading to the festival earlier in the day is always a good idea to avoid the larger crowds. If you want to reserve a table, this must be completed with each individual vendor months in advance.
You will need to ready yourself to share your table with complete strangers. Community style seating is common, but meeting new people can be a lot of fun. Plus after a few beers and some music, everyone at your table will be besties in no time.
For more information on the individual tents, menus and reservations visit the Oktoberfest website.
9. Oktoberfest = Beer
Yes. The main event. Beer. In 2015, a mouthwatering, 7.3 million liters of beer were sold during Oktoberfest. You will be able to enjoy the fresh drafts, made locally by 6 different breweries sold in liter size mugs for around €10-€12 each.
You might want to note that the beer will be a bit stronger in alcohol content then you may be used to. Pacing yourself and grabbing a bite to eat in between would be a wise idea.
One very important German word to learn prior to your arrival would be prost, which means "cheers". This will prove helpful when you are bonding with the locals in the tents.
Not a beer drinker? If you are feeling brave, try a Radler, a refreshing mix of juice and beer. Otherwise not to worry, wine, lemonade, mineral water, and colas are also widely available.
10. Background History of Oktoberfest
Before heading to the festival, it would be a good idea to learn a bit about the history of Oktoberfest. Historically, Oktoberfest dates back to over 200 years ago. Crown Prince Ludwig (later King Ludwig I) and Princess Theresa of Hildburghausen got married. To celebrate their wedding, the couple organized a huge horse race in the spirit of the Olympics dated back to ancient Greece. The field it took place on was later named Theresienwiese, meaning Theresa's field.
Over the next several decades, Oktoberfest continued to grow. By 1960, Oktoberfest was known as the largest festival in the world complete with rides, food, beer, games, and more.
Today, Germany's Oktoberfest will attract 6 million visitors during its 16 to 17 day run at the end of September and during the first week of October. All of this, thanks to two people throwing a heck of a party on their wedding day.
Oktoberfest is Waiting For You
There you have it. Some important tips for you to ponder before attending your very first Oktoberfest. Soon you will be joining the ranks of millions of visitors that travel to Germany's Oktoberfest annually. So order those lederhosen and dirndls and get ready to experience Germany's largest volk festival. Prost!
---
Note: Please visit the official website for Oktoberfest for the most current and up to date information.
---
Have you visited Oktoberfest in Germany?
If so, do you have any pointers for those planning their first trip?
We would love to hear about your experience visiting Oktoberfest!