Höhenpark Killesberg: 6 Reasons to Visit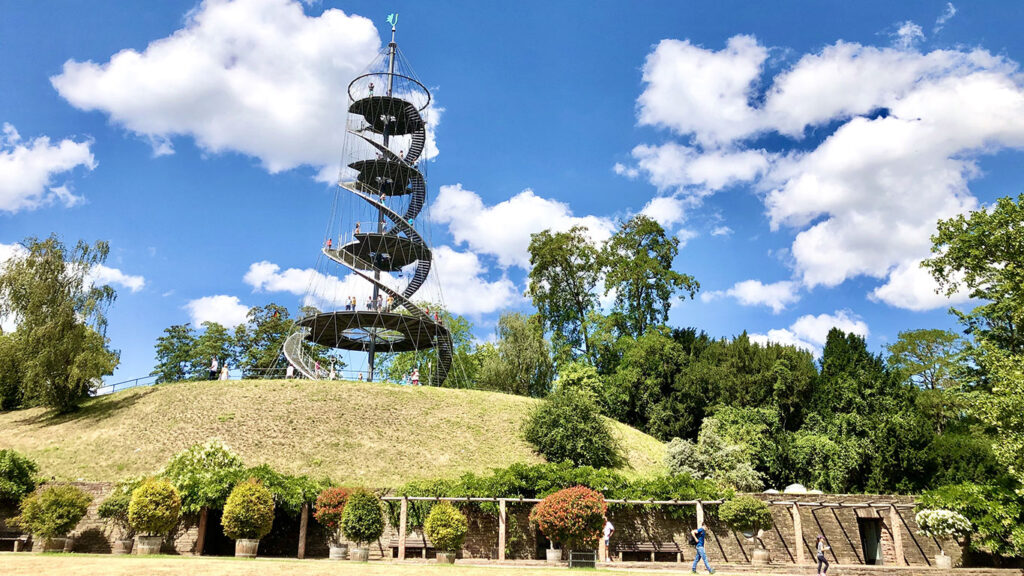 Take a Trip to Stuttgart's Höhenpark Killesberg
Are you looking for the perfect place to spend the day outside? Stuttgart has an exceptional place for you at Höhenpark Killesberg. Here you will find an abundance of activities for all ages with a lovely backdrop of lush flowerbeds, trees, and beautiful views. The ideal mix of serenity and amusement.
6 Reasons to Visit Killesberg Park in Stuttgart
Our family of 4 visited Höhenpark Killesberg by train on a warm, July day. We prepared by bringing a stroller for my 2-year-old son along with his beloved balance bike to ride on. My 7-year-old daughter decided to forego bringing her scooter and she happily walked along with us adults. Our first visit to this beautiful park was a success for many different reasons. Let me share some of our highlights so you can make your trip there a memorable one, too.
Let's take a look at 6 reasons why Höhenpark Killesberg is a popular place to visit.
1. The Beautiful Gardens
As soon as we arrived at Höhenpark Killesberg, we saw the picturesque views of the beautiful flower beds, the abundance of trees, ponds, and lakes among lush open fields. An attractive 124 acres located right in the middle of urban Stuttgart, Germany. I was told that the flower beds are tended to all year round and are quite colorful throughout the 4 seasons. It truly is a lovely park to stroll through and the flowerbeds and garden areas will not disappoint.
2. The Killesberg Tower
The highlight of our visit was climbing the Killesberg Tower, which sits at about 40 meters high. The 4 of us climbed 174 steps to ascend to the top where we enjoyed breathtaking panoramic views of the Stuttgart region. Be warned that the tower sways slightly and that it was purposely designed this way by engineer Jörg Schlaich. It has received multiple awards for its ingenuity. I felt the slight swinging motion the most towards the top of the platform, although I should note that we visited on a slightly windy day. Our entire family loved the climb, the gentle sway, and the memorable views. Be sure to stop by the tower on your visit. You won't want to miss it.
3. The Delcious Höhencafe
As lunchtime was approaching, we decided to try the restaurant inside the park, called Höhencafe. The host was very kind and immediately sat us at a table in the shade with a pretty view. The service was fast, which is always a plus with little ones in tow. Above all, they offered a nice selection of food on the menu. Everything we ordered was delicious.
My husband and I ordered fried fish served with homemade potato salad and freshly made tartar sauce. Plus a yummy side salad. We both were very impressed with our meals. My daughter and son shared an adult portion of Schnitzel and french fries. Let's just say that they did not leave anything on their plates. To be honest, my expectations were not the highest, but who can complain about fast, efficient service and delicious food? I highly recommend stopping by the Höhencafe to enjoy the lovely view and a convenient and tasty meal.
4. Take a Ride on the Killesbergbahn
The park offers a really neat experience by taking a ride on the Killesbergbahn. Unfortunately, due to the coronavirus pandemic, it was not open during our visit. However, they are set to open on July 27, 2020, so hopefully, you will get a chance to check it out.
I know that my kids would have enjoyed taking a ride to see the park by train. The train travels about 1.5 miles as you sit back and experience the beauty and the diversity of the park. The Killesbergbahn has some of the oldest cable cars of their kind in Germany and they use both steam and diesel locomotives.
The Killesbergbahn opens during springtime and runs through the fall. Be sure to check the website for the most up to date running times and admission prices. Most of all, have fun! We can't wait to journey through the park on the Killesbergbahn on our next visit.
5. Eliszi's Fun Fair
I can't even begin to tell you how cute the little breezeway with Eliszi's Fun Fair is. The smell of fresh popcorn and waffles, the nostalgic carousel playing Frank Sinatra surrounded by restored antiques and rides. As you wander through the area, several beautifully restored historical circus wagons can be seen along with an extensively restored tractor, fair organ, and a small theater tent for performances. It genuinely felt like a walk back in time.
My daughter eagerly rode the carousel and we sampled some of the delicious treats. The Waffelbäckerei menu offers fresh waffles, popcorn, Flammkuchen, ice cream, coffees, and more. We enjoyed stopping by Eliszi's Fun Fair and a great time was had by all.
6. Fun For All Ages at Höhenpark Killesberg
After spending half a day at Höhenpark Killesberg, we decided it would be best to take my son back home for his afternoon nap. Although we still had so much left to see and experience.
For starters, we hadn't even made it to the open fields with ponies, donkeys, mini-pigs, alpacas, sheep, and goats. I had also heard that there were flamingoes to see. Plus, the park has a large 3,000 square meter playground and even a children's theater that performs puppet shows.
We had left so much unexplored, including seeing the park's 25 metal sculptures created by local and well-known artists. Not to mention, all of the unseen ponds, lake terraces, gardens, and diverse flora throughout the park. Killesberg Höhenpark even has a swimming pool on-site, an open-air stage for concerts and festivals throughout the year. The list just goes on and on. Needless to say, we will be back.
Don't Wait. Plan Your Visit to Killesberg.
Killesberg is an amazing place to spend the day. With a diverse set of options to choose from, it truly has something for everyone young and old. Whether you are looking for exciting activities, a quiet stroll through a park, or a picnic afternoon on the grass while the kids play soccer, Killesberg has a beautiful setting you will be sure to enjoy with your loved ones.
---
What is your favorite spot at Killesberg Höhenpark?
If you are planning a trip there, feel free to leave any questions below.
I would love to hear from you. – Kristie xo
---