Spend the Day at Lake Constance (Bodensee)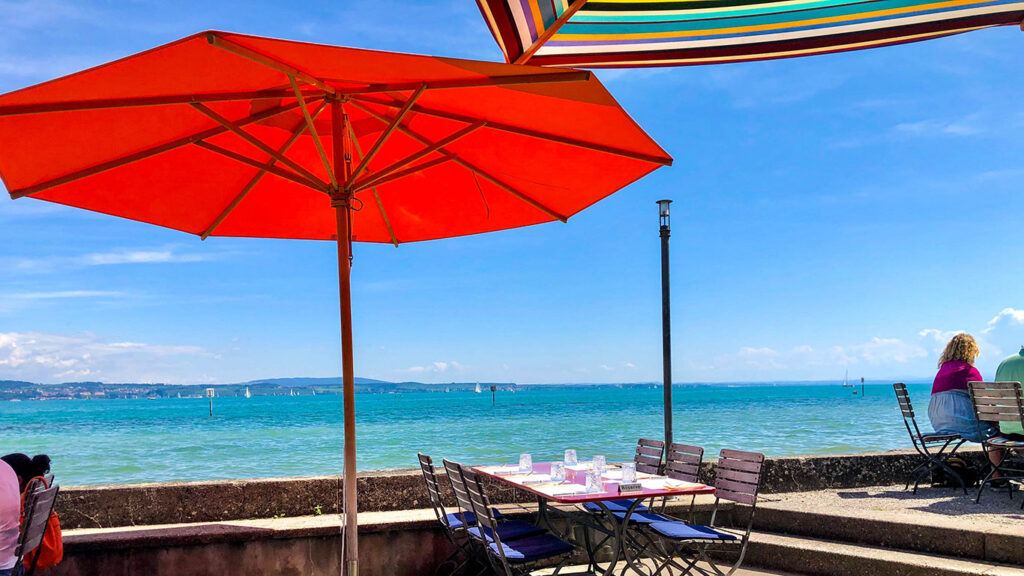 Updated on:
Switzerland's View of Lake Constance (Bodensee)
On a bright Saturday morning, my husband and I felt an irresistible urge to visit Lake Constance. Originating from South Florida and residing in Germany for over a year, we deeply missed the ocean. Our sole mission: to embrace the waters. The lake views from Switzerland were breathtakingly beautiful. Our souls felt rejuvenated after our Lake Constance journey. And once you glimpse the captivating photos, you might be tempted to explore the wonders of Switzerland too.
On the Road to Switzerland
After driving for a little over 2 hours, we finally crossed over the border from Germany to Switzerland. The kids were excited as we began to see the water. We quickly found a parking spot near a marina and eagerly walked toward a viewing area. Seeing the mountains in the distance on the mesmerizing, blue waters of Lake Constance was a magnificent sight to see.
Lake Constance, known as Bodensee in German, is one of the largest lakes in Central and Western Europe. Long ago Lake Constance was formed by the Rhine Glacier during the ice age and now offers breathtaking views from Austria, Germany, Switzerland, and Liechtenstein.
A Picture Perfect Lunch
After we took in the alpine views from the lake, we walked a bit and stumbled upon a lakefront restaurant. We had panoramic lake views and a delightful lunch at Strandwirtschaft Schlössli. The staff at the restaurant were all very kind and welcoming, and they offered a nice selection on the menu. The kids ordered their standard chicken nuggets and french fries while my husband and I opted to try the fresh fish. Our meals were served hot with quality ingredients and our entrees tasted delicious.
But most of all, we could not get over how peaceful and breathtaking the view was. I am a nature lover at heart, and in my mind, it was already the perfect day.
Ferry Rides on Lake Constance
Directly next to the restaurant was one of the many docks to take a ferry to other areas of the lake. Sadly, we did not get to ride the ferry during this visit, but we hope to next time. What a beautiful ride it must be and a nice way to get around the lake. Some of the ferries will even allow you to bring your car aboard. Be sure to plan ahead and purchase tickets to take a scenic ride on one of the ferries.
Summertime Fun
When in Switzerland on a warm, summer day, why not look for a nice spot to swim in one of the largest and most gorgeous lakes in Europe? My daughter was very adamant about finding a spot to swim. She is my little fish. After spending her first 5.5 years of life as a Florida girl, swimming and the water seem to be in her DNA.
After checking with our friend Google, we found a nice swimming park within a 5-minute drive of the restaurant. To our surprise, we only had to pay to park. The swimming park, Badeplatz Röösli, was free to enter. It was super cute with sand volleyball courts, fire pits, ping pong tables, stand-up paddleboards for rent, a small children's playground, plenty of grass area to lounge with shade or sun, and of course, the beautiful water with stunning views. Not to mention, its restrooms, changing rooms, a cozy cafe, and a dock on the lake that the older kids particularly enjoyed swimming out to.
We spent the afternoon here, soaking up the sun and exploring the waters. It felt so refreshing on a summer day and everything we needed was steps away.
Tschau Switzerland!
After exploring the area, eating lunch, and swimming at the park we finally decided that we should head home. Our first visit to Switzerland and Lake Constance made for quite an exciting day. The kids were tired and quite frankly, my husband and I were, too.
We were grateful for our short 2-hour ride home in which both kids fell asleep and my husband and I relaxed and enjoyed the lush, green rolling hills and alpine views of Switzerland and Germany. At the end of the day, I was grateful for the wonderful experiences our family has been able to have during our time in Europe. We can't wait to see where our next adventure will take us.
---
How about you, have you visited Lake Constance?
Do you have plans to travel to Lake Constance (Bodensee)?
---
As always, I am eager to hear your thoughts or comments. If something sparks your interest or if you have any questions, please share them below. And if this piece resonated with you, please consider supporting my site through Buy Me a Coffee. Your support enables me to craft more stories to share with you all. 💕
Address to Restaurant & Swimming Park:
Strandwirtschaft Schlössli
Seestrasse 50, 8598 Bottighofen
Badeplatz Röösli (Freibad Röösli)
Seeweg, 8598 Bottighofen
Disclaimer: Please know that while I pour my heart and soul into providing you with the most accurate and up-to-date information, the world has its way of changing. The details and insights shared here were accurate at the time of penning them down. However, in time, some specifics might shift. Always double-check before making any plans. Safe travels and warm wishes.