Plan an Easy Day Trip To the Schwarzwald in Germany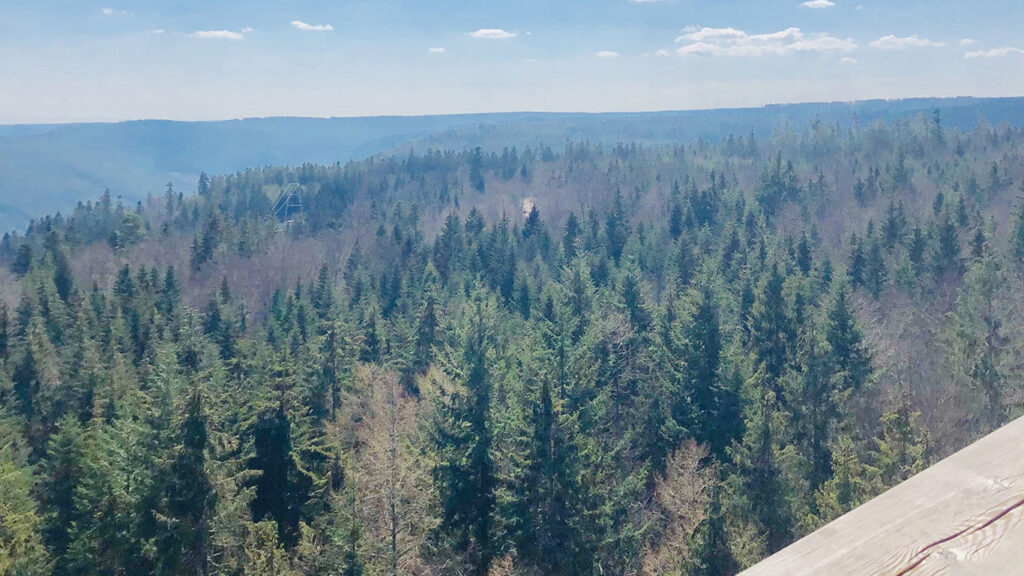 Plan a Day Trip to the Black Forest- Schwarzwald, in Germany
Cuckoo clocks, delicious ham, and rich chocolate cake are just a few things that may come to mind when you hear the word, Black Forest or Schwarzwald in Germany. Known as one of Germany's most beautiful regions, there is an abundance of activities from thermal baths to hiking to a breathtaking Treetop Walk at Baumwipfelpfad.
A New Perspective
A family-friendly way to begin your adventures in the Black Forest is by visiting The Treetop Walk on the Sommerberg in Bad Wildbad. Here you will be able to experience the Black Forest from a very unique perspective.
At the entrance, you will need to pay an admission fee. Then continue on to encounter a walkway 20 meters (65 feet) above the forest floor through an impressive mix of the Black Forest's fir and spruce trees. Walking along the forest canopy is quite impressive.
Our family particularly enjoyed the learning stations that taught us more about the local plants and animals. My daughter especially loved participating in the activity stations along the way. These stations were reminiscent of an obstacle course, challenging children and adults alike.
The Observation Tower
No doubt that the highlight of our treetop walk was when we approached the impressive 40-meter (130 foot) high observation tower. This unique rising spiral structure was designed with a maximum gradient of 6% allowing an accessible climb to the top for wheelchairs, strollers, and people of all ages.
As you travel along each spiral walkway, you will be rewarded at the top with an astonishing 360° view of the Black Forest. On clear days you may even find yourself staring at the Swabian Alps or Stuttgart's TV Tower.
What Goes Up, Must Come Down
Just when you thought the day could not get any better, you will see a 55-meter (180 foot) tunnel slide. For ages 6 years and older, you have the opportunity to ride the slide to the bottom. What a fun way to end your little hike among the trees.
You won't want to miss this chance to learn about local nature and wildlife as you experience the 1,250-meter long treetop walk up to the observation tower. It's a perfect way to spend a day in the Black Forest.
But Don't Stop There
There is still plenty more to see during your day trip. Feel free to stop by the gift shop for souvenirs or regional products. Find your way to the many hiking trails, playgrounds, or grab a table and share a picnic among the trees. Take your pick.
Hiking for Pancakes
We decided to finish our day with a hike to a delicious restaurant called the Grünhütte. This 5-mile roundtrip hike is known to some as The Blueberry Pancake Hike. The Grünhütte is a family-owned restaurant that has been serving up delicious, traditional German food for over 52 years.
They have indoor and outdoor seating. Here you will also find bathroom facilities for those that may need a potty break. No need for a reservation, although if the restaurant is full you may need to wait a bit on a table to open up. Be sure to have Euro on hand to pay for your meal.
Heidelbeerpfannkuchen
Once we arrived we tried their famous blueberry pancakes or Heidelbeerpfannkuchen. A tasty fried dough with fresh blueberry sauce on top. The portions were large and shareable. We all enjoyed sampling some beer, cappuccinos, and other traditional German dishes from their menu. It was well worth the hike and it was the icing on the cake for our first trip to the Black Forest. All in all, a perfect day.
Until Next Time
After our fun-filled adventure, we can't wait to visit the Black Forest again.
---
How about you? Have you visited the Schwarzwald in Germany?
If not, do you have plans to visit someday?
I would love to hear from you.
---