Visit the Treetop Walk in Germany's Schwarzwald (Black Forest)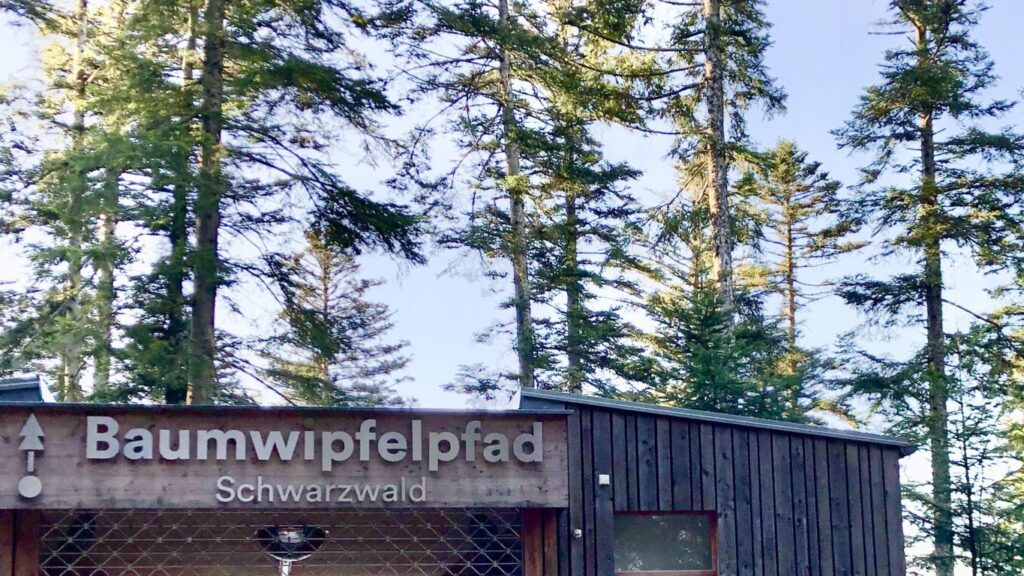 Updated on:
Plan a Day Trip to the Schwarzwald, in Germany
When you think of the Black Forest or Schwarzwald in Germany, images of intricate cuckoo clocks, savory ham, and decadent chocolate cake might come to mind. Yet, beyond these iconic delights, this German gem offers many attractions. From rejuvenating thermal baths and scenic hiking trails to the awe-inspiring Treetop Walk at Baumwipfelpfad, the Black Forest is a definite blend of beauty and adventure.
The Treetop Walk: A New Perspective
Dive into the heart of the Black Forest by starting your journey at The Treetop Walk in Sommerberg, Bad Wildbad – a perfect family adventure. This unique vantage point lets you embrace the views of the forest like never before.
Upon arrival, you will need to pay an entrance fee, or feel free to grab a ticket ahead of time in their online ticket shop. As you continue on the walkway, it will take you 20 meters (65 feet) above the ground, you'll walk among the majestic firs and spruces, making you feel like you're floating amidst the treetops.
Our family particularly enjoyed the learning stations, which offered insights into the forest's diverse flora and fauna. To our surprise, there were interactive stations sprinkled along the path, reminiscent of playful obstacle courses, my daughter loved engaging in the different activities along the way.
The Observation Tower
Undoubtedly, the highlight of our treetop journey was reaching the impressive 40-meter (130-foot) observation tower. Ingeniously designed with a gentle 6% incline, this spiraling structure accommodates wheelchairs, strollers, and visitors from all walks of life, ensuring everyone can reach the top with ease. Even my 2-year-old walked much of the way!
Each twist and turn brings you closer to the summit, where a breathtaking 360° panorama of the Black Forest unfolds. On days when the sky is crystal clear, your gaze might stretch as far as the Swabian Alps or even the iconic Stuttgart's TV Tower. We took our time, taking in the serene views.
Bonus Fun: What Goes Up, Must Come Down
Picture it: Just when you're mid-way to the observation tower's summit, a 55-meter (180-foot) tunnel slide appears The slide sits at about the halfway point as you are walking to the top of the observation tower. Anyone aged 6 and above can enjoy this slide for just 2€ a person, adding a touch of adventure to the day. And for the little ones under 6? They can join the fun and ride down with an adult. Don't worry about the slide's comfort – a "sliding mat" ensures a smooth ride down.
Quick tip: Do keep in mind, that the slide closes during the winter months and might temporarily close due to unexpected weather changes.
But Don't Stop There
Your day trip isn't over just yet. Swing by the gift shop to pick up a memorable keepsake or some regional goodies. Discover the numerous hiking paths, and playgrounds, or settle down for a delightful picnic among the trees. The choice is yours.
Hiking for Pancakes
We journeyed further and rounded off our day with a scenic 5-mile (roundtrip) hike leading us to the famed Grünhütte restaurant, often referred to as "The Blueberry Pancake Hike". With a rich history spanning over 50 years, this family-operated establishment recently clinched the title of "Excursion Restaurant of the Year 2021". Serving delightful traditional German dishes, it's a culinary experience not to be missed.
The Grünhütte offers both cozy indoor seating and an outdoor dining area. Conveniently, there are restrooms available for visitors. Reservations are not accepted, so be prepared to wait for a table during busy hours. And a pro tip: ensure you have plenty of Euros with you, as they do not take credit cards.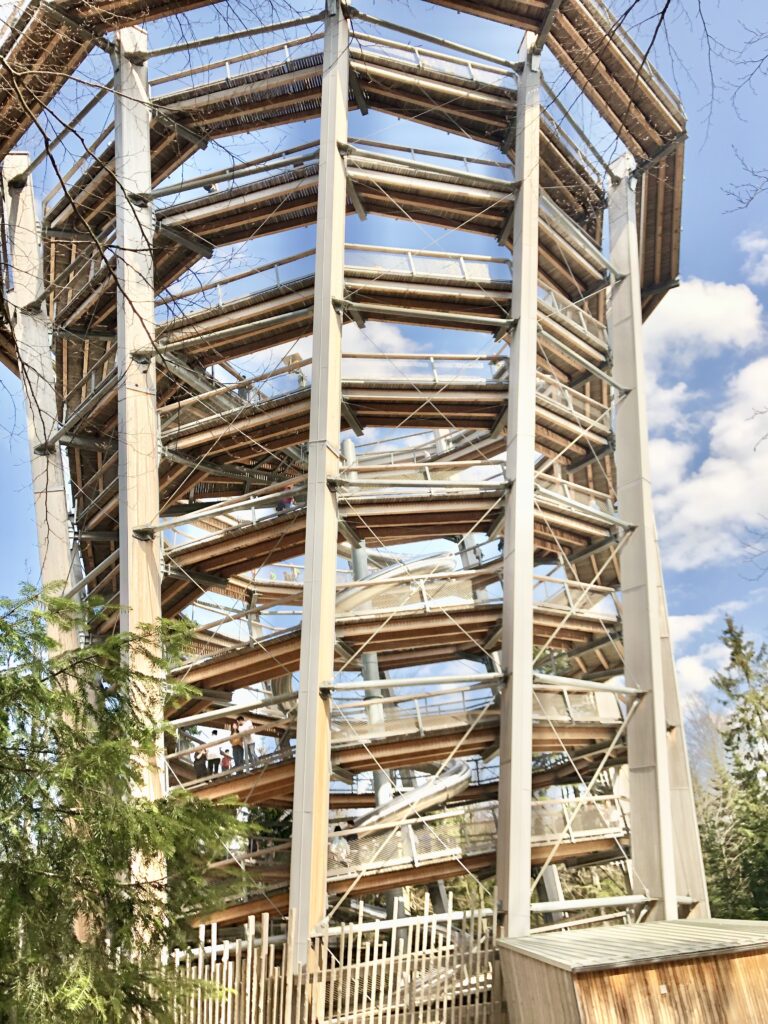 Heidelbeerpfannkuchen
Upon reaching the Grünhütte, we indulged in their famous Heidelbeerpfannkuchen, or simply put blueberry pancakes. These delightful pancakes, crispy on the outside and soft inside, almost like fried dough, were generously topped with a fresh blueberry sauce. The sizeable portions were perfect for sharing among our group. We complemented our meal with Flädlesuppe (pancake soup), sips of locally brewed beer, cappuccinos, and a variety of other traditional German delicacies from the menu. It was well worth the hike and was the cherry on top of our unforgettable day. Truly, it was a day well spent.
Until Next Time
The Black Forest, or Schwarzwald, is more than just a picturesque backdrop in Germany. It's a realm where nature meets adventure. From the breathtaking heights of the Treetop Walk and the rush of the tunnel slide to the panoramic splendors of the observation tower, every moment is captivating. The Grünhütte's blueberry pancakes enrich the experience further. So, if you're in search of a blend of adventure, nature, and gastronomy, the Schwarzwald awaits you with open arms!
---
How about you? Have you visited the Schwarzwald in Germany?
If not, do you have plans to visit someday?
---
As always, I am eager to hear your thoughts or comments. If something sparks your interest or if you have any questions, please share them below. And if this piece resonated with you, please consider supporting my site through Buy Me a Coffee. Your support enables me to craft more stories to share with you all. 💕
---
Disclaimer: Please know that while I pour my heart and soul into providing you with the most accurate and up-to-date information, the world has its way of changing. The details and insights shared here were accurate at the time of penning them down. However, in time, some specifics might shift. Always double-check before making any plans. Safe travels and warm wishes.