6 Reasons to Visit the World's Largest Pumpkin Festival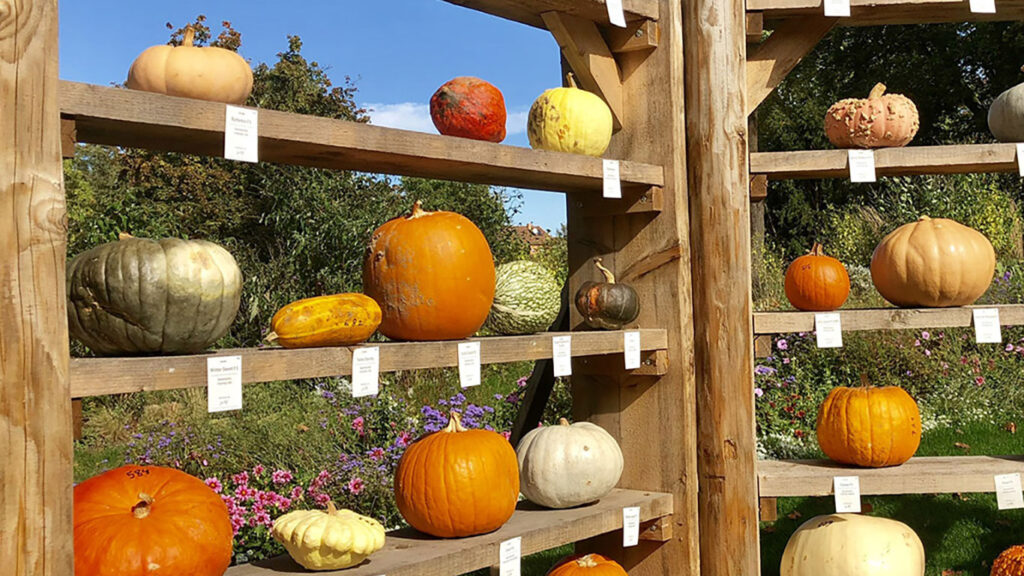 Don't Miss the Annual Pumpkin Festival (Kürbisausstellung) in Ludwigsburg, Germany
What better way to celebrate fall than to visit the world's largest pumpkin festival in southwestern Germany?
Blooming Baroque (Blühenden Barock), the gardens surrounding Ludwigsburg Residential Palace, is home to this annual event with over 600 varieties and over 450,000 pumpkins on display for all to see. I've compiled the top 6 reasons why you won't want to miss checking this event off of your bucket list.
1. Magnificent Pumpkin Displays
Each year the festival chooses a new theme keeping return visitors coming back again and again. The theme for 2019 was "Fantastic World of Fairytales." Last year, the theme was "Music", but the season was cut short due to the pandemic. Now this year, the festival is back showcasing an ocean theme, "Kürbis Unterwasser." As you make your way around, be sure to have your camera ready.
You will see hundreds of thousands of pumpkins transform into interesting creations. Some of my favorites from 2019 included creative takes on dragons, wizards, trolls, unicorns, and even a fallen giant being tied to the ground. Famous characters such as Pikachu, Peter Pan, Tinkerbell, and Medusa were brought to life. The imagination and planning put into the design of these displays are mind-blowing. Kudos to all of those working hard behind the scenes to make this event a success.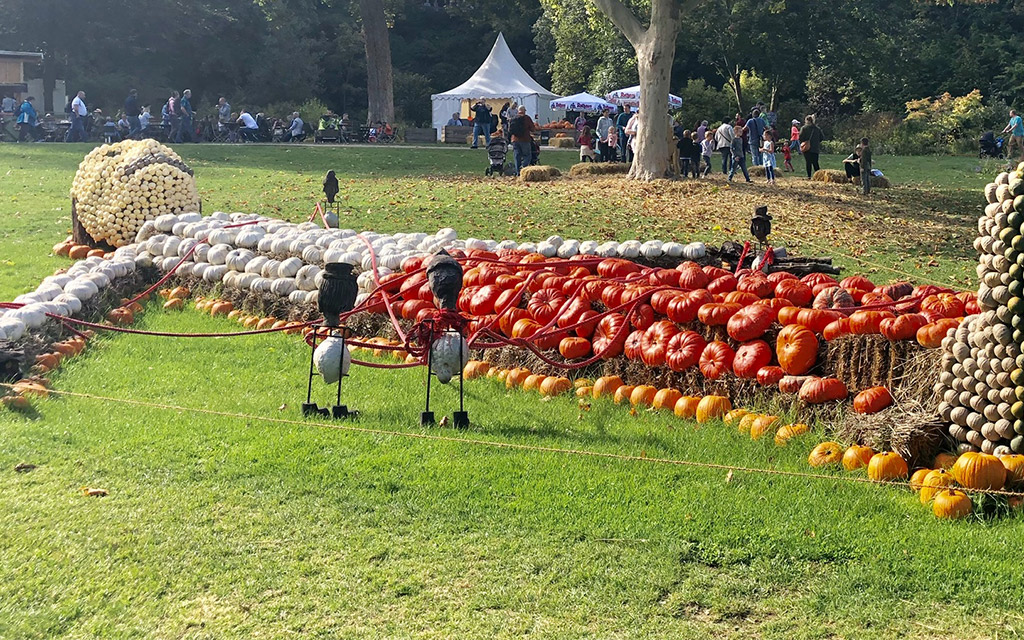 2. Pumpkin-Inspired Eats
Any foodies out there? Be sure to bring your appetite. There are plenty of pumpkin-inspired foods and drinks, and if you are lucky some free samples along the way. Delicious pumpkin beers and wines are available. The food menu has plenty to offer to range from pumpkin muffins, pumpkin soup, pumpkin seeds, pumpkin burgers, pumpkin french fries, spaghetti with pumpkin and the list goes on and on. Not a fan of pumpkin? Don't worry there is plenty of traditional German fare to choose from, as well.
3. Shopping
For those of you eager to take a pumpkin home, there is a large array of pumpkins for purchase and even carving kits, too. You will also find a shopping area and vendors to purchase decorative and food items. With many culinary delights to choose from, take your pick from pumpkin Secco, pumpkin tea, a variety of pumpkin spice mixes for soups and other dishes, pumpkin ketchup, pumpkin fruit spread, roasted pumpkin seeds, and so on. I think you get the idea here. The array of choices seems endless. There are many options to choose from so that you can have your fair share of pumpkin all season long in a variety of ways.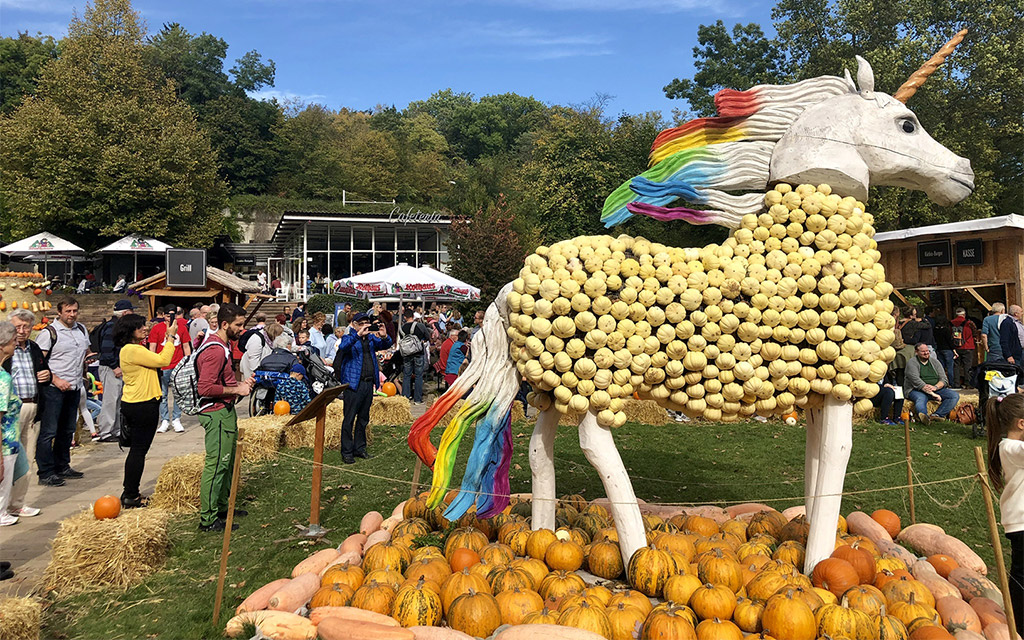 4. Pumpkins From All Over the World
Something you may not expect to see is a huge display of pumpkins labeled with their origin country. It was fascinating to look at all the different varieties of pumpkins and to see where each one originated from. To my surprise, our whole family spent quite some time on this display. My daughter was especially excited when she recognized our traditional pumpkin from the United States that we carve each year on Halloween. Be sure to stop by this interesting showcase of pumpkins.
5. The Palace Gardens
Just walking the grounds of Ludwigsburg's Residential Palace warrants a trip in itself. As one of Germany's largest Baroque palaces, the palace and the grounds are a must-see while visiting the area. If time allows, guided tours of the inside of the palace are offered in multiple languages. Not to mention, by purchasing admission to the pumpkin festival you will also have access to the infamous fairy tale gardens with over 30 scenes and activities for children big and small.
From the well-manicured landscaping to the dreamy fountains and impressive architecture, this is definitely a sight you will not want to miss. Add in some seasonable fun and it makes a perfect day trip for the whole family.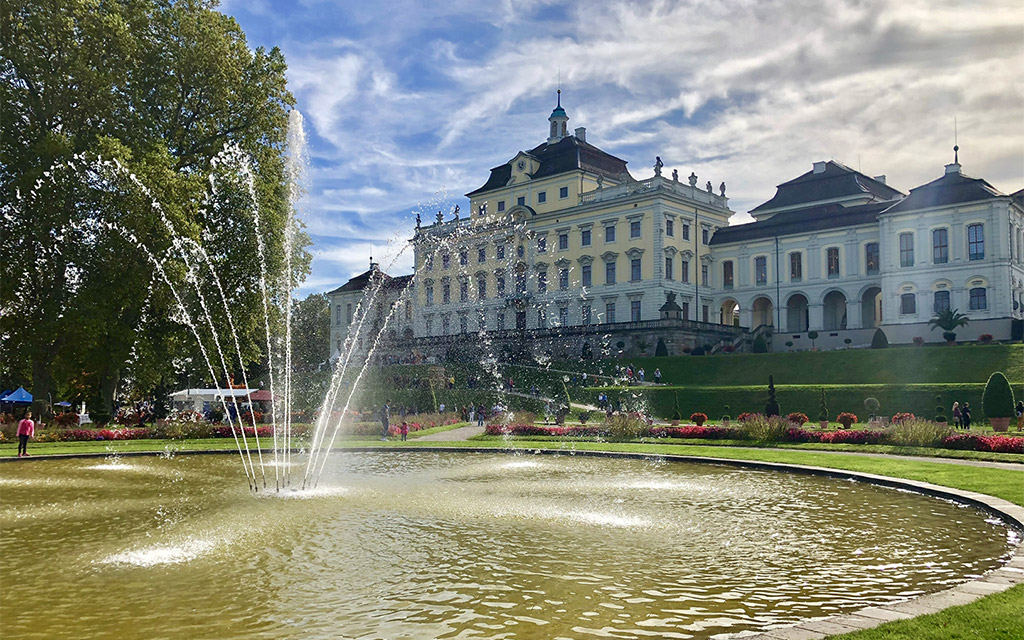 6. Exciting Events
The festival hosts numerous special events on designated dates. Ranging from pumpkin carving contests to smashing pumpkins, to pumpkin weigh-ins to 'tales from the pumpkin patch', a beloved storytime for children, to the largest pot of pumpkin soup in Germany cooked and served to visitors.
But my favorite event of all is the German pumpkin paddling championship. Where competitors race in giant hollowed-out gourds to victory across the castle lake. Be sure to check out the festival's website for the dates and times of all these exciting annual events.
What are you waiting for?
Go ahead and plan your trip for fall 2021. The theme of the festival will be inspired by the sea. Over 450,000 pumpkins will showcase ocean-inspired creatures and more. Rumor has it that even Spongebob Squarepants will be making an appearance. Don't forget to visit the festival website for the most up-to-date information on parking, hours, admission fees, and more. I've included some details below to help you with your visit. Happy exploring!
---
Are you planning on visiting the world's largest pumpkin festival? I would love to hear from you!
Visit the 2021 Pumpkin Festival: August 27th to December 5th
Address: Blooming Baroque Ludwigsburg, Mömpelgardstrasse 28, 71640 Ludwigsburg
Hours, Monday through Sunday:
Exhibition 9:00am-8:30pm
Gastronomy 10:30am- 5:30pm
Farm and Souvenir shop 10:30 am- 5:30 pm
Food and Pumpkin sales 10:30 am- 5:30 pm
Admission fees: Adults €10.00, Children (ages 4-15) €4.80 The daily price includes a visit to all gardens, including the fairy tale garden, plus entrance to the pumpkin festival and exhibition. Tickets can be purchased onsite or online.
Dog Policy: Generally bringing dogs are allowed, please visit their website for their specific policies.
Parking: For arrival by train, bus, or car, please visit here for detailed information.
---
Want to Learn More About the Fairy Tale Garden? Read my post for more details.