Celebrate Advent with These Simple Ideas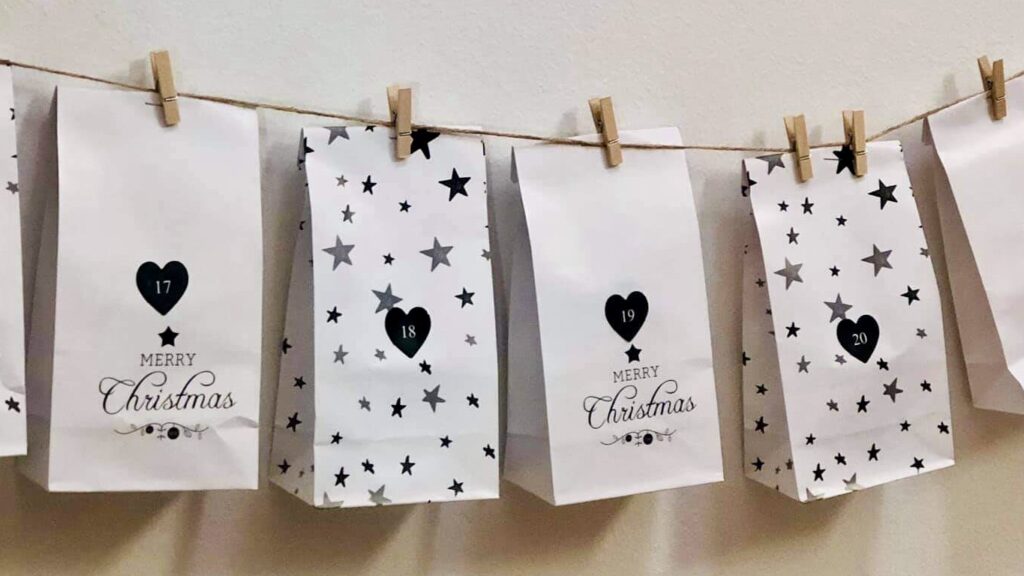 Updated on:
Part 1: Your Kids Will Love These Simple Ideas to Celebrate Advent
It's that time of year again! Celebrate the Advent season with these easy, yet creative ideas. As your kiddos excitedly await Christmas morning, they will love having new surprises to open each day.
Perhaps you are looking for something different than those traditional store-bought boxes of chocolates with tiny little doors. Maybe you are thinking of ways to vary your Advent calendar this year. Here are some thoughts and ideas for you to get started.
Keep It Simple
You do not need to stress or spend a lot of money to create something special for your family. There are many ways to create homemade Advent calendars. Use a little bit of twine, clothespins, and paper bags, then number your bags with a sharpie and you are in business. Or hop on over to Pinterest if you want to tap into some unique or creative ideas.
Celebrate To Fit Your Family
Think about what you would like to accomplish this Advent season and plan each day of the countdown around that theme or idea. Maybe you want to choose a special theme, or utilize a particular design, or perhaps incorporate daily bible verses.
Keep in mind that there is nothing wrong with the popular approach of giving little chocolates each day, or gifting something small to your kids daily. Just take a moment and decide the direction you want to take for your Advent calendar and go for it!
Our Family Advent Calendar
If you are still brainstorming ideas, don't worry. I have a suggestion for celebrating Advent this year that you might like. Our family chose to focus our Advent calendar on three main topics:
1. Gratitude
2. Service
3. Making Memories
The reoccurring themes were rotated every few days varying the focus throughout the Advent season. Allow me to elaborate on the themes we selected and how we incorporated them into our festivities.
Gratitude
The first topic we wanted to emphasize was gratitude. We did this by writing out thought-provoking questions to help facilitate discussions on gratitude. We made the questions age-appropriate so that we could all discuss what it means to show gratitude.
For example, on Advent, calendar day 1, on a piece of paper write "Name something you appreciate about each family member" and put it in the corresponding advent bag/box, etc.
On other days, we all shared what we were grateful for in our lives. After these thoughtful discussions, our children were given a small toy or a piece of candy as part of their Advent calendar.
Service
The next thing that was important to us was to teach our children about service and giving to others. We purposely put some activity cards into the Advent countdown that found ways to serve or give to others during the holiday season. Such as baking cookies for our neighbors or donating to a family in need.
Making Memories
Last, we chose to make memories as a family. We did this by finding time for activities together such as decorating the Christmas tree, watching a Christmas movie while sharing popcorn, and building a gingerbread house. The season gets so busy, that it was refreshing to build solid family time into our routine through our Advent calendar.
Tis' the Season
This was our very first time using an Advent wreath and an Advent calendar. Why did it take us so long!? We loved it so much and we are excited already for next year.
I loved varying the themes so that some days we enjoyed activities as a family, while other days we were serving neighbors and our community, with the remainder of the days, spent teaching our children to be mindful of the blessings in our life. It felt well-balanced and meaningful.
There are an infinite amount of ways to celebrate Advent. Would you like a more specific guide? Keep on reading for helpful ideas that your kids will love. You can find ideas for advent activities here and plenty of ideas for advent calendar fillers here. I am sure your family Advent calendar will be extra special this year. I wish each of you an Advent season full of love and warmth!
---
How do you celebrate Advent?
Do you have any fun ideas to share?
---
As always, I am eager to hear your thoughts or comments. If something sparks your interest or if you have any questions, please share them below. And if this piece resonated with you, please consider supporting my site through Buy Me a Coffee. Your support enables me to craft more stories to share with you all. 💕
---