Tips for a Family-Friendly Getaway to Paris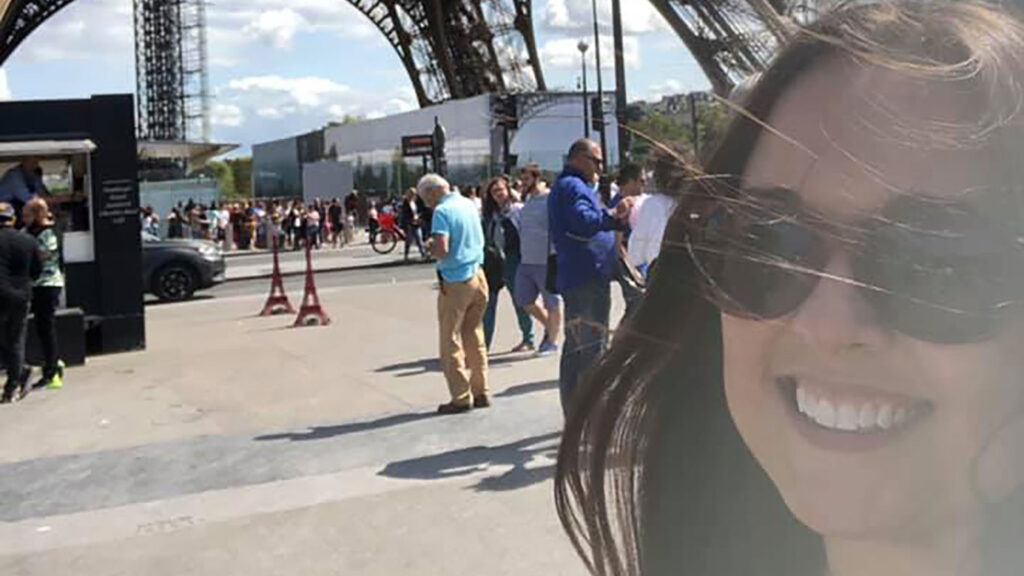 Plan a Family Trip to Paris with These Tips
So you're planning a family trip to Paris? Planning can be a lot of fun, but overwhelming at times. I have outlined a loose itinerary for you plus, I have included some family-friendly tips to keep in mind.
Paris was our very first family trip after moving overseas to Europe. Paris had been on my bucket list for a very long time. I was nervous about traveling as a family of 4 while making the most of our time in Paris. The Eiffel Tower, The Louvre, Notre Dame, so many places to see and things to do. Could the kids keep up? Where would we begin?
Anyone that knows me, knows that planning is my thing. I love to have a good, solid plan in place. My husband on the other hand, well, he literally lives in the moment. Planning is not his forte. So for the very first time in my life, I took off my planning "hat" and decided to go with the flow. To my surprise, I am glad that I did.
Good-Bye Itinerary
My husband and I decided to arrive without any itinerary or plans. Yes, you read that right. No itinerary. We decided to just relax and enjoy Paris without schedules or checklists. I have to say we had an amazing, restful, fulfilling weekend as a family. Let me tell you about our experience and offer a few tips along the way. Perhaps you would like to explore Paris in the same way we did.
Tip: Stay Close to Attractions
We packed up our bags and took a 3-hour train ride from Germany arriving in Paris that same morning. The kids did amazing on the train. From the main train station, we were able to exchange currency and take a train to our Airbnb, which was located in the 17th arrondissement of Paris, near Champs-Élysées and the Arc de Triomphe.
Location was important to us so we stayed at a nice, cozy apartment within our budget in order to minimize our travel time as a family within Paris. I should also note that we booked a few weeks in advance so this was one of the closest locations we found with little notice. For us, this was as convenient as we could find at the time.
After dropping off our belongings, we set out to explore. Our neighborhood had grocery stores, a nice market set up daily, and a coffee shop with delicious croissants, beignets, and fresh loaves of bread. We were truly spoiled and had everything we needed at our fingertips.
Our First Look
Upon our arrival, the weather was perfect. After walking about 2 blocks from our Airbnb, we came upon the magnificent sight of the Arc De Triomphe.
The Arc honors those who fought and died for France in the French Revolutionary and Napoleonic Wars, with the names of all French victories and generals inscribed on its inner and outer surfaces. Beneath its vault lies the Tomb of the Unknown Soldier from World War I. The area was swarming with tourists and vendors, but it was quite the sight to see.
Next, we made our way along the iconic Champs-Élysées. Known as one of the world's most famous avenues, we strolled past the high-end stores, the street performers, the restaurants, the parks, the fountains and everything in between. We continued on and eagerly walked to the Eiffel Tower, albeit a long walk, but the weather was gorgeous and quite frankly, we had gotten used to walking since our recent move to Europe.
The Eiffel Tower
The very moment the Eiffel Tower came into view marked one of the most memorable moments of our trip to Paris as a family. We walked along the river on a bright, sunny day and soon crossed over to approach the tower.
Of course, the experience wouldn't be complete without stopping for some delicious French crêpes. Crêpes with the Eiffel tower in view. A wonderful family memory to say the least.
Once we made it to the tower we took all the obligatory photos that we could and headed to the nearby carousel for the kids to enjoy a ride. If souvenirs are your thing, there are an insane amount of street sellers in this area. We continued nearby to the Trocadéro Gardens. A 25-acre garden located directly opposite the Eiffel Tower on the other side of the Seine River.
The open area was wonderful for the kids to get some of their pent up energy out and it was a great place to stop for a break, a picnic, or a snack. But the highlight was the view. Many say that some of the best photos are taken from this vantage point and I can see why. Breathtaking is an understatement, with the beautiful greenery, flowers and impressive fountains surrounding the area, it made for a perfect view of the Eiffel Tower.
Wrapping up Day 1
After our little break in the garden area, we journeyed a bit further to Palais de Chaillot for an even higher vantage point overlooking the Trocadéro Gardens and the Eiffel Tower. Palais de Chaillot houses a national theatre and several museums built impressively in the neoclassical style dated back to 1937.
In the courtyard between the main two buildings, we were surprised to see some street performers. The talent ranged from dancing to comedy skits to basketball moves, which was a pretty neat way to round out our afternoon.
At the end of the day, we grabbed a quick dinner and headed back to our Airbnb for an early bedtime. It had been a long day and we wanted to feel rested for the next day for our next exciting adventure in Paris as a family.
Tip: Watch Your Belongings
If you aren't familiar with Paris's reputation, the area is known for its pickpocketers and petty theft. As always, when traveling, be aware of your surroundings and keep your valuable items tucked away safely. If anyone stops to ask you questions or tries to take your photo, keep on walking. Many use such distractions to grab your valuables. This is especially prevalent in the direct area of the Eiffel Tower. A word to the wise, be extra vigilant while traveling in Paris.
Tip: When Dining Out, Keep It Simple
Let's be honest who wants to sit at a pricey restaurant with an impatient 6-year-old and an active 2-year old. Plus the fact that there are a language barrier and differing cultures. Not to mention, in France restaurants close for several hours between lunchtime and dinner time. This can also make dining out more challenging and reservations are usually recommended.
You probably won't believe this, but we only ate at what I consider a "real" restaurant once during our trip. I am sure we missed out on trying some delicious cuisine, but I can tell you that this made for a much more pleasant experience.
I am both proud and slightly embarrassed to say that my children ate at Mcdonald's and Burger King more times in Paris than they probably have in their entire life. (Sidenote: For a little less guilt, these particular chains have way better quality food here in Europe.) But hey, we got in, we got out. Everyone was happy.
We also enjoyed dining out at the local bakeries for breakfast, they were a perfect way to begin the day. An excellent idea is to find a Farmer's Market and purchase bread, cheese, fruit, wine and whatever tickles your fancy. You can pack a lunch and have a picnic outside at a park or one of the beautiful gardens in the area.
Also, there are little kiosks throughout the city selling crepes, sandwiches and other yummy things to curb your appetite. I think the bottom line is that we were well fed and nobody got hangry while saving ourselves from the headache of dining in nicer restaurants. Keeping our meals simple was a perfect decision for us.
Adventuring in Paris: Day 2
After stopping for a fresh breakfast from a local bakery, we were off to sightsee. We decided to bypass the trains, tour buses, and taxis and walk to our destination. We had the privilege once again of walking by the Arc de Triomphe as we traveled from one end of Champs-Élysées to the other end at Place de la Concorde.
Place de la Concorde is the largest square in Paris. Our favorite part of the square was a giant Egyptian obelisk decorated with hieroglyphics honoring the reign of the pharaoh Ramesses II. It is one of two the Egyptian government gave to the French in the 19th century.
Tuileries Garden
As we moved on, we came across a beautiful and family-friendly spot known as Tuileries Garden located between Place de la Concorde and The Louvre. There you will find a large pond surrounded by comfy chairs where you can rest and relax while the kids play or feed the ducks. Also, keep an eye out for street vendors. We ordered ice cream and coffee to enjoy by the pond. So refreshing!
The Louvre
After quite a bit of walking, we had finally reached, The Louvre. This former residence of French kings is the most visited museum and, the third-largest museum in the world. It definitely lived up to its impressive reputation. Our family decided to visit the galleries on our next trip to Paris, but the grounds itself were well worth the visit. Taking photos by the glass pyramid was a great spot for a photo op.
Tip: What To Do On A Rainy Day
Paris has a lot to offer on rainy days. With so many museums to visit, take your pick. Be sure to pack waterproof gear such as jackets, boots, stroller covers, and umbrellas. This is highly suggested, as there is still a lot of walking in between landmarks and if you are using public transportation.
With rain in the forecast, we spent our last full day in Paris visiting The Cathedral of Notre Dame and the French National Museum of Natural History.
Due to the fire at Notre Dame Cathedral in April 2019, we could not get close to the cathedral. Reconstruction was underway to rebuild Notre Dame exactly as it was prior to the fire. Currently, it is closed for worship and tours until further notice. It was still an impressive sight to see as we walked along the river to our next destination.
Bonus tip: This is the only day we took a train from our Airbnb. Please note that the train stations have a lot of stairs and they are not stroller friendly at all. It wasn't the most pleasant experience, but we managed with our 2-year-old cruising along in his stroller. Definitely something to be aware of.
Day 3: French National Museum of Natural History
We arrived at the French National Museum of Natural History and visited a few of the exhibits. The paleontology gallery was incredible, as well as the comparative anatomy gallery. Our kids loved seeing the dinosaurs on display.
We continued on through the garden area that housed endless amounts of trees, plants, flowers, fresh fruits, and vegetables. We ended our time at the museum at the Geology and Mineralogy Gallery.
On our last full day in Paris, it rained the entire day. Surprisingly enough, we had a blast. We did not let that stop our fun. As they say, "No bad weather, just bad clothing." It was a relief that we had packed appropriate clothing for everyone to navigate the rain comfortably.
Tip: Paris By Night
Due to booking our trip last minute, we were unable to secure tickets to ride the elevator to the top of the Eiffel Tower and with little ones in tow, we decided against climbing stairs to some of the other popular landmarks that offer gorgeous views of the city.
However, to my surprise, next to Tuilleries Gardens was the Roue de Paris or the wheel of Paris. We decided to ride it at dusk to get a view of Paris from 55 meters high. It was a bit pricey, but we had our own gondola to ourself and we rode around several times. My children loved the view, especially my 6-year-old daughter. This was a perfect solution for our family to see Paris from above.
And to complete our evening there was an adjacent fair that I understand runs most of the summer with rides for all ages and plenty of traditional fair food to snack on. Somehow while in Paris our days seemed magical and even without a detailed plan, they always worked themselves out.
Au revoir, Paris
I will be honest, I feel like we barely put a dent in seeing all that Paris has to offer. But, we plan on visiting Paris again. Next time we will stay and explore in a different district to get another perspective of Paris. The kids will be a bit older and we will be able to enjoy some more adult-like cuisine.
But for this stage in our lives, this trip was perfect and exactly what our family needed. I wouldn't change a thing. We made a lot of great memories and are excited to plan our next trip there.
---
How about you, friends?
Would you like to visit Paris? Have you been to Paris?
If so, I would love to hear your family-friendly tips and experiences!
---